Mass production of a high output 100mW DFB laser diode chip

- Responding to high speed communications through increased output and contributing to reduced energy use through increased efficiency -
Start mass production from January 2024 of a DFB laser diode chip with an optical output of 100mW, one of the highest outputs in the industry
The chip is expected to be used in high performance optical transceivers for high volume communications exceeding 800Gbps
The higher output and higher efficiency will contribute to reduced energy use at data centers
Furukawa Electric Co., Ltd. (Head office: 2-6-4 Otemachi, Chiyoda-ku, Tokyo; President: Hideya Moridaira) will start mass production of a DFB laser diode chip with an optical output of 100mW, one of the highest outputs in the industry, from January 2024.
Background
As telecommunications traffic increases mainly at data centers following the widespread use of cloud services and launch of generative AI, transmission speeds are required to further increase from the current 400Gbps to 800Gbps and 1.6Tbps (Fig. 1).
Intensity modulation optical transceivers are broadly used at data centers. In recent years, increased focus has been directed toward silicon photonics technology (note 1), which has advantages in terms of small size, high integration, low power consumption, and DFB laser diode chips are often adopted as a high output, single wavelength light source.
Within this trend, because optical loss increases during high speed intensity modulation at higher transmission speeds, the equipped DFB laser diode chips are required to have even higher output. However, at the same time, the increased use of optical transceivers and other devices results in the problem of increased energy use at data centers and network base stations.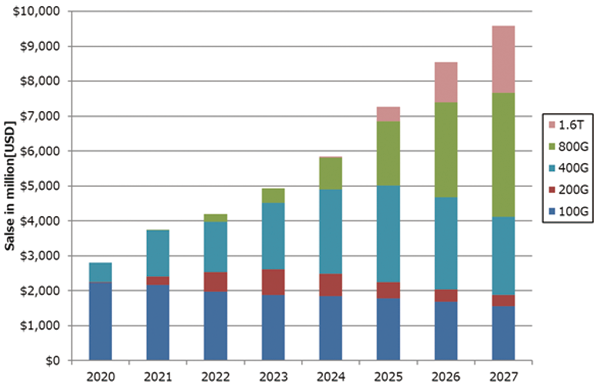 Details
Using InP (Indium Phosphide, (note 2)) semiconductor chip technology experience accumulated over the years, we developed a DFB laser diode chip with high output power of 100mW - one of the highest in the world (Fig. 2) in September 2022, and we will begin mass production from January 2024. The higher efficiency of this chip improves the wall-plug efficiency to 22% compared to the 16% wall-plug efficiency of existing products (Fig. 3). As a result, this chip is expected to be used in high performance optical transceivers for high volume communications exceeding 800Gbps and reduce energy use at data centers.
We plan to exhibit this chip at ECOC 2023 scheduled to be held in Glasgow, UK on October 2-4. (FITEL-FURUKAWA ELECTRIC EUROPE, Booth #230, ECOC 2023: https://ecoc2023.theiet.org/)
Research will continue to develop and commercialize high performance semiconductor laser light sources as a leading company in the laser business, and we will contribute to realizing a truly prosperous, sustainable society through advances in optical communication.

Main product specifications
| Characteristic | Specification | Characteristic | Specification |
| --- | --- | --- | --- |
| Optical output power | 100mW | Side mode suppression ratio | Min. 35dB |
| Operating temperature | -5 ~ +75℃ | Beam divergence angle (vertical) | Typ. 22 deg |
| Peak wavelength | 1271/1291/1311/1331nm | Beam divergence angle (horizontal) | Typ. 18 deg |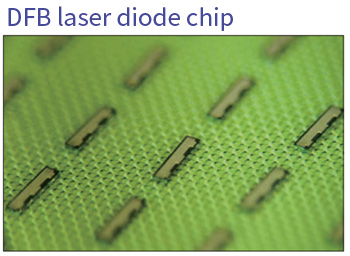 (note 1)Silicon photonics technology: Forming technology for high density optical device integrated platforms based on silicon electronics manufacturing technology. The ability to use widely adopted silicon electronics manufacturing technology makes it possible to reduce costs and achieve higher integration.
(note 2)InP (Indium Phosphide): A III-V semiconductor family that is used in the manufacturing of laser diode chips and high-speed transistors.
Related News Release
Furukawa Electric Group's efforts towards the SDGs
Based on the "Sustainable Development Goals (SDGs)" adopted by the United Nations, Furukawa Electric Group has formulated the "Furukawa Electric Group Vision 2030" which sets the year 2030 as its target and is advancing efforts with the aim to "Build a sustainable world and make people's life safe, peaceful and rewarding, Furukawa Electric Group will create solutions for the new generation of global infrastructure combining information, energy and mobility." Toward the achievement of our Vision 2030, we will take open, agile, and innovative approaches to promote ESG management that aims to increase corporate value over the medium to long term and will contribute to the achievement of the SDGs.