2023 New Year's Greeting from President Keiichi Kobayashi
- Summary for the Employees -

Three requests for the employees: safety and health first, commitment to results, use dialogue
Happy New Year!
Although we are still impacted by Covid-19, our daily lives are returning to how things were before the pandemic. Thank you so much for the hard work you do each day to address the challenges of the constantly changing business environment, such as a global recession. In Japan, it is a year of the "Rabbit," which means "efforts will bear fruit and bring significant growth".
Let's believe in our potential and be agile so we can achieve "Furukawa Electric Group Medium-term Management Plan 2022~2025" and "Furukawa Electric Group Vision 2030".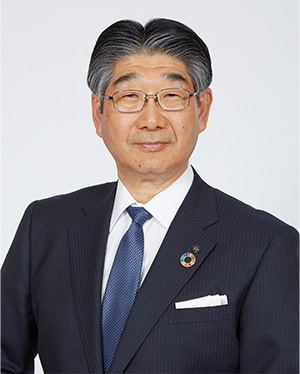 Three requests for the employees
Safety and Health First
Safety and health are always our No. 1 priority. Although we have been making various efforts to work safely, let's make further progress with three things: switch into work mode when you pass through the safety gate that stands at the gate of factory, have a toolbox meeting(note) at your workplace to focus on important points, check for any existing hazards using the pointing and calling practice before starting work. I also suggest that you have another toolbox meeting at the end of work, which makes you reflect on any close calls or minor concerns will improve safety going forward.
Commitment to results
In a time of significant change, our assumptions may change after we first set our goals; as a result, it may become difficult to achieve those initial goals. But if we simply give up facing the challenge, we will not grow either as individuals or as an organization. It is important to be agile and review our plans and actions according to the situation. If one action is not working, you can come up with another to cover the shortfall; please remain agile and commit to achieving our organizational goals.
Use dialogue
In this era of great change, dialogue is critical at all levels. With two-way communication, relationships improve. It helps us to identify changes quickly, decide on appropriate actions and execute them with confidence. This leads to individual growth. The sum of that individual growth is what makes up the company's growth. Though you are having a two-way dialogue, but that is not your interlocutor's experience. I'd like to ask each of you to reflect on your own actions.
(note) toolbox meeting: a brief, safety meeting held before the start of a work shift. The name derives from the place where this meeting is held – near a toolbox.
Furukawa Electric Group's efforts towards the SDGs
Based on the "Sustainable Development Goals (SDGs)" adopted by the United Nations, Furukawa Electric Group has formulated the "Furukawa Electric Group Vision 2030" which sets the year 2030 as its target and is advancing efforts with the aim to "Build a sustainable world and make people's life safe, peaceful and rewarding, Furukawa Electric Group will create solutions for the new generation of global infrastructure combining information, energy and mobility." Toward the achievement of our Vision 2030, we will take open, agile, and innovative approaches to promote ESG management that aims to increase corporate value over the medium to long term and will contribute to the achievement of the SDGs.