Regenerating Difficult-to-recycle Plastic Waste into Consumer Goods

- Contributing to the resolution of the global plastic waste problem with Furukawa Electric's unique technology -
Development of technology to regenerate laminated film waste such as potato chip bags into high strength reinforced plastic
Production of ballpoint pens made from manufacturing losses of Furukawa Electric and Tetra Pak Japan, and put to use.
Setting goals to enhance plastic recycling worldwide in cooperation with public authorities, together with the implementation of this technology for various end applications such as furniture and electric appliances.
Furukawa Electric Co., Ltd. (Head Office: 2-2-3 Marunouchi, Chiyoda-ku, Tokyo; President: Keiichi Kobayashi; hereafter "Furukawa Electric") has developed a technology to regenerate laminated film, which is difficult to recycle and currently used in many applications such as food and detergent packaging, into high strength reinforced plastic materials. We have received cooperation from Tetra Pak Japan Inc. (Head Office: Iidabashi Grand Bloom 8F, 2-10-2 Fujimi, Chiyoda-ku, Tokyo; President: Henrik Haugaard; hereafter "Tetra Pak Japan") and Zebra Co., Ltd. (Head Office: 2-9 Higashi-Gokencho, Shinjuku-ku, Tokyo; President: Shinichi Ishikawa; hereafter "Zebra") to use this technology to produce ballpoint pens for in-house use. In the future, we will contribute to solving the problem of plastic waste by expanding the range of this technology's use to include applications such as stationery, furniture, electrical appliances, and automobile parts.

Background
Plastic waste or pollution is considered to be of a great concern, due to its effect on the environmental caused by its outflow into the ocean, and global warming caused by carbon dioxide produced during its incineration. The amount of plastic waste being generated is increasing further at present due to the COVID-19 situation. According to the amended Basel Convention which has come into effect in January 2021, when exporting plastic waste subject to regulation, prior consent from the recipient country has become necessary, and each country will need to make further improvements to their waste management.
Mono-material plastic packaging such as PET bottles can be easily recycled, however in contrast, multi-layered packaging used for items such as potato chips bags, is difficult to recycle. This is because such packaging is often made from layers of different plastic materials as well as aluminum and paper, and therefore for most cases, such waste ends up in landfill or incinerated. In 2019, Furukawa Electric developed a unique technology to regenerate difficult-to-recycle single-use plastic and waste paper as raw materials, allowing them to be regenerated into a higher strength reinforced plastic with just a single process. Cellulose, the main component in paper, usually does not blend well with plastics. However, with this technology, paper is defibrated into cellulose fibers, allowing the fibers to be dispersed into the plastic, resulting in an increase to the tensile strength of the plastic up to approximately double that of its original state. This technology has already been utilised to recycle used paper beverage cartons into our own cable-related products which has been on sale since June 2019.
Details
The body part of the ballpoint pens that have been produced, except for the coloring agent, were made using raw materials from manufacturing losses of our company's tapes for semiconductor processes and beverage cartons containing aluminum which were provided by Tetra Pak, Japan. The main components of these manufacturing losses consist of more than three types of plastic, as well as paper and aluminum foil. When such materials are mixed with the conventional method, the material strength would be too low to be used for ballpoint pens. However, by applying our technology, its strength is increased and we have succeeded in upcycling such materials into ballpoint pens. Furthermore, as this technology breaks paper down into cellulose fibers, no residual paper fragments can be observed.
Both Furukawa Electric and Tetra Pak Japan will use these pens(note 1) in-house.
Comparison of Flexural Modulus (MPa)
The original plastic from manufacturing losses of Furukawa Electric's tapes for semiconductor process is strengthened to double its flexural modulus.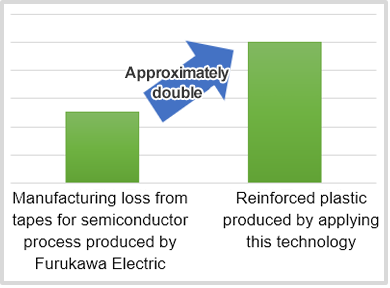 We have also succeeded in creating prototypes of ballpoint pens(note 1) using other food packaging plastics.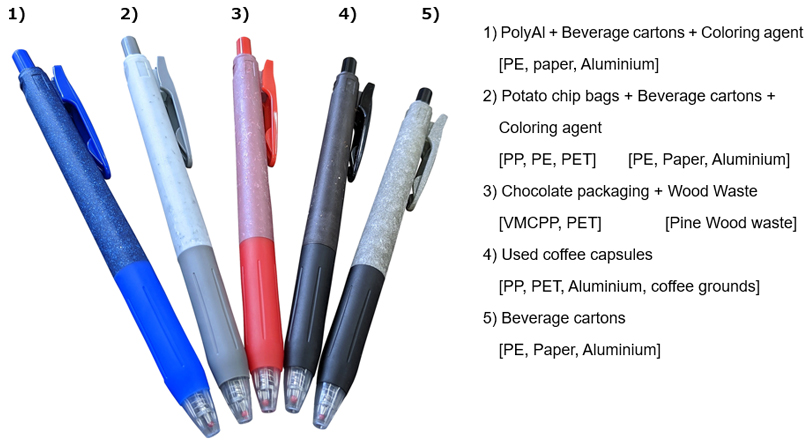 (note 1)Prototypes only, currently not available for sales
Future Prospects
Moving forward, we plan on expanding the range of end applications for this technology, not limiting to our company's products or ballpoint pens, but for stationery, furniture, electrical appliances, and automobile parts etc. We will continue to coordinate and collaborate with all parties in the recycling value chain, to contribute in solving the problem of plastic waste.
Related news release
Furukawa Electric Group's efforts towards the SDGs
Based on the corporate philosophy of "Drawing on more than a century of expertise in the development and fabrication of advanced materials to contribute to the realization of a sustainable society through continuous technological innovation," the Furukawa Electric Group is conducting business activities centered on four core technological capabilities (metals, polymers, photonics and high frequency). Moreover, keeping in mind the "Sustainable Development Goals (SDGs)" adopted by the UN, we formulated the "Furukawa Electric Group Vision 2030," which clarified the business areas of the Furukawa Electric Group, and are advancing efforts aimed at "creating solutions for the new generation of global infrastructure combining information, energy, and mobility to build a sustainable world and make people's life safe, peaceful, and rewarding.